KOORLONG - Noongar Songs in Schools
LETTER TO TEACHERS/AIEOS
For details including costs of workshops follow this link.
MAKE A BOOKING ENQUIRY
To make a booking enquiry, please follow this link. Someone from Madjitil Moorna will be in contact within 2 days to discuss your enquiry.
BACKGROUND
This Project began because teachers with no knowledge of Aboriginal languages wanted help with introducing songs and culture into the classroom. In the classroom, they see the link between celebrating our indigenous culture and a more positive attitude to learning for many students. A joyous way to do this is through singing local Noongar language songs together.
 
Some teachers are uncertain about where to start and anxious not to offend. They are very capable of teaching on songs from recordings, but a visit to their school from young Aboriginal musicians who are confident in their culture is a wonderful boost.
 
Madjitil Moorna Choir, with the strong support of Noongar Elders and through its Music Directors, is in a unique position to help with this learning. Made up of singers from all backgrounds and all abilities, we represent a 'coming together' of cultures which we feel is much needed in our society. We know how staff members in primary schools champion this same idea and we feel privileged to be invited in.
 
Early in 2015, Madjitil Moorna produced a songbook and CD resource for Primary schools - ABORIGINAL SONGS for Middle and Upper Primary School Students. This has been warmly received and has stimulated the appetite for more Noongar cultural inclusion.
 
Ideally, teachers will continue to rehearse these songs for performance at school. Many have begun singing Noongar songs at school assemblies as a result of this project.
Opportunities to sing with Madjitil Moorna at a special event may follow. The first massed choir event, when nine school choirs joined Madjitil Moorna singing at the Kalamunda Zig Zag Festival in October 2015, was a thrilling highlight! (Video above)
 
Madjitil Moorna is very proud to be part of the revival and preservation of this ancient language through the Koorlong Project.
 
THE WORKSHOPS
Young local Aboriginal musicians including Kobi Morrison and Leonie Wilkes have led workshops in schools around Perth, mentored by experienced facilitators from Madjitil Moorna. Songs in Noongar plus the 'Halls Creek Rodeo Song' (written with kids in the East Kimberley and put to music by award-winning Noongar performer, George Walley) from Madjitil Moorna's Songbook  and CD are being taught to hundreds of kids across the Perth metro area. Once started, teachers will continue to rehearse their choirs and many have already included Noongar songs in school assemblies, as a result of this project.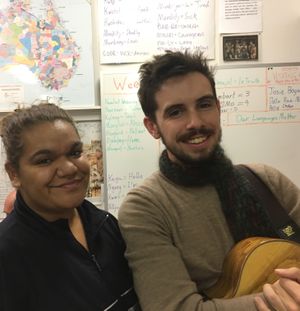 Leonie Wilkes and Kobi Morrison
THE SONGS
School groups may learn up to 5 kwobidak (beautiful) contemporary songs. They may include lullabies, narrative songs, chants, action songs and anthems. While most of the songs are from Noongar songwriters, other much-loved Aboriginal songs from across Australia add to the repertoire.

See Songbook in our Store  ABORIGINAL SONGS for Schools and Communities
THE FIRST MASSED CHOIR PERFORMANCE
Several hundred excited children sang together with the adult choir, led by the dynamic Candice Lorrae, Madjitil Moorna's music director, the young workshop presenters and other Noongar performers and supported by teachers and their families!
The theme for the 2015 Kalamunda Zig Zag Festival was 'Trees, Tracks and Trains', reflecting the history of this unique Perth Hills community. For Madjitil Moorna's 10th festival performance, the Noongar story was woven through an exciting Finale Concert at dusk - just as the Zig Zag Street Parade was welcomed into Stirk Park, Kalamunda - featuring collaborations between Madjitil Moorna and local bands and choirs and including the Children's Massed Choir, singing Noongar songs.
This was a first! Never before in Perth has Noongar language been sung by a combined schools choir of this size. It was full circle for Madjitil Moorna. We began as a community arts project run by Zig Zag Community Arts back in 2006. It was good to be looking back over the years and working with the Zig Zag mob again, to bring Noongar culture strongly into the 2015 program!
 
What people are saying....
 
'.....I felt so privileged to have you and your two choir members working with our choir today. The children loved it. The choir was a bit subdued at first. They soon warmed up thanks to your experience and gentle way with them. I was so taken by Tori and Kobi. Their expertise was amazing, but their way with the children was beautiful. What wonderful representatives of their people they are.'  - Margaret Alderson, Primary School Music Specialist
 
'I know from teaching my class  Aboriginal language songs (with permissions) that one little Aboriginal girl in my class becomes instantly more involved, her stance changes, she stands taller and becomes proud, strong and learns the words quickly. She sings just that little bit louder. I can tell how important language and culture is thru song, with just this one little girl's reaction.'  - Charley Caruso, Singing Coach
 
'The workshop was fabulous! Candice and Kristel were wonderful with the kids - so warm and down to earth and the kids responded to them really well. I loved how they told about their backgrounds and encouraged them to get into performing in their later lives. It's encouraging for the Aboriginal students in the choir and excellent role models of Aboriginal people for non-Aboriginal students too :-)'  - Sam Metcalf, Primary School Music Specialist


'Being involved with Madjitil Moorna and the Noongar Songs In Schools has been so joyous.  Today we made a difference in a young boys' life.  Actually many others, but I wanted to thank everyone for their support of the singing children today. 
 
I am a music teacher in a primary school and was lucky enough to be able to invite some of my students to support Madjitil Moorna at the Kalamunda Zig Zag Festival earlier this afternoon.  With my students travelling from Armadale, I was concerned about the commitment asked of families coming from my school community to Kalamunda.  They came alright with more than half of the representation male (you might hear me still cheering about this!). 
 
The boys from my school were mostly quite shy during the performance, especially one boy who has been at our school just a couple of months.  He is SO shy in class.  However he was so keen to perform with the choir and Uncle George and Aunty Josie who all my students now know through my talking.  Yes he stood in the front row, yes he sang all the words, maybe not as confidently as others, but  I could not be prouder.  For this young Indigenous boy, the confidence and pride in him that we perhaps helped contribute to today, thank you everyone.  Kobi and Roni, thank you for what you do.  Who knows what this meant for him today?
 
Other highlights were of course singing with such amazing singers, songwriters and musicians with passion for life, music and our society.  Taking part today was a highlight of my life.  Thank you.'  - Jane Nicholas, Music Specialist Teacher, Oct 2016
 
'This project is important beyond measure....to see the eyes of the Noongar kids light up. Lots of kids have joined choir to sing these songs and say they want to stay.'
- Anne Eversden, Primary School Music Specialist

'You are wonderful….our school is LOVING the Noongar music programme I am doing. We had a day full of cultural activities on Friday ….helped by the local Noongar people…totally successful day!' - Keryn Hastie, Music Teacher

Noongar language - the language of the whole South-West region of Western Australia - is endangered. Language is about belonging - feeling connected to place and through time.
Noongar kids feel especially proud to learn their own language and the easiest way to do this is through song. For any kids, knowing a bit of language from the oldest living culture in the world is pretty Moorditj! (excellent, strong, cool!)
Comments from teachers encourage us to spread the project to more schools.
Madjitil Moorna is very grateful for the support of the Feilman Foundation and the Sangora Education Foundation as we continue this project in schools. 

If you would like to see this project flourish and more children learning local language through singing together,
please contactus@madjitilmoorna.org.au and see how you can help.