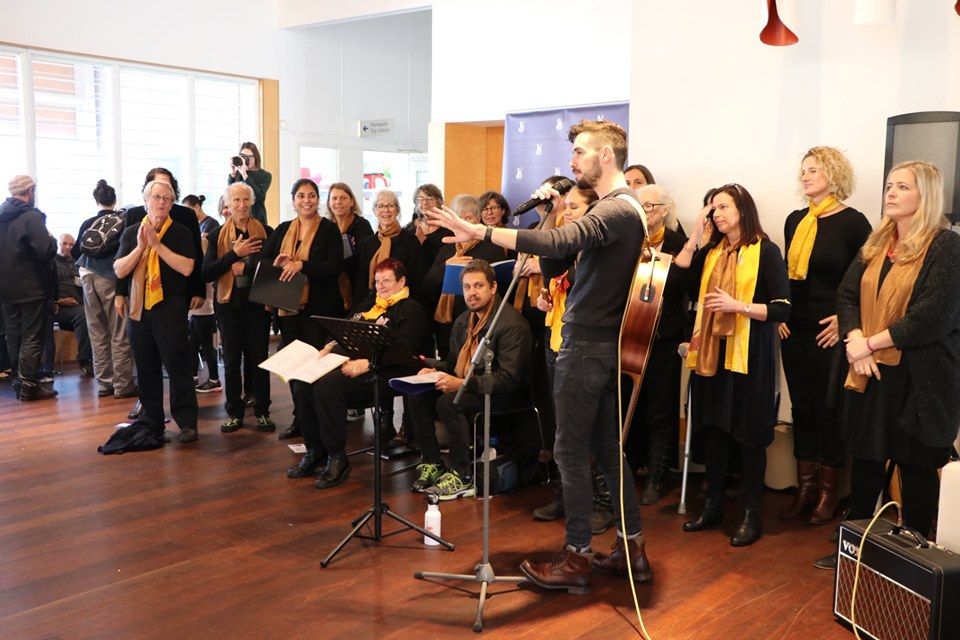 Walyalup Kannajil have just finished our first term for 2019, and how moorditj it has been!  Our first session on May 8 (Maaattee!) saw 34 members in attendance, and subsequent weeks saw an average of about 28 people coming along, including a few kwobidak koolangka!  Everyone has just loved Kobi and his gentle ways, as well as engaging with our special guests, which have included Brendan Moore (Aboriginal Engagement Officer, City of Fremantle), Dr. Richard Walley and Aunty Mingli McGlade. We've also been lucky enough to have had a few regular members who are specialist Noongar language teachers. It has been so very touching to see everyone's involvement in WK, from volunteering to help with organising the songsheets, welcoming new members, setting up the room to bringing something to share for supper. We're also very grateful for the continued support from MMers in particular moorditj yoorga Jemma, Cathi and Jo! 
We had a great end to the term with a joint performance with Madjitil Moorna at the City of Fremantle's NAIDOC Week opening event on 7th July at our old haunt, PCYC, Fremantle. For many WKer's it was their first public performance, and while it started with many jostling for a coveted back row position, there were many smiles and full hearts post-gig! 
A last highlight for WK has been being shortlisted as one of eight applicants (out of a total 27) for the Impact100 Fremantle grant. We've made it through to the second round which includes the submission of a detailed application and a site visit from donors in July & August respectively. After this, donors will select just four finalists for the last round in November, which involves giving a 10-minute pitch to donors who will then vote for one lucky recipient to receive $100,000! 
With current funding from the Department of Local Government, Sport and Cultural Industries, WK are looking forward to 3 more terms, taking us to April 2020.